Miss London & other Miss England  finalists received their official Miss England Finalist Tiara's at a socially distanced ceremony & fashion shoot with celebrity photographer Alan Strutt at the Taj 51  Buckingham Gate London Suites & Residences.
Plastfree is thrilled to be a part of this pageant honouring women with passion for a sustainable future and beauty ofcourse!
The Contestants wore glamorous designer ballgowns by award winning To The NINES Boutique offset by the need to wear  saftely visors! (albeit custom made Miss England ones) after being invited to sample the Alice Queen of Hearts Afternoon Tea.
Lizzy Willis, Intensive Care Nurse at St Mary's Hospital & Rebecca Sinnarajah a Paediatric Nurse at the Chelsea & Westminster hospital (pictured with Miss London) are amongst 8 Finalists who were invited to the glamorous location which has now reopened for business.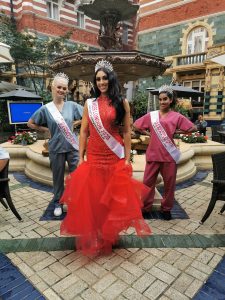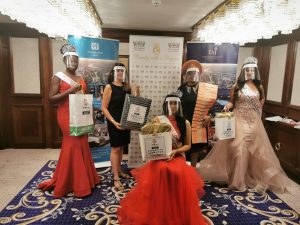 Jessica Kang – who won the Miss London Title in Lockdown said " It was so nice to meet the other contestants and have my crowning ceremony at the luxurious Taj 51 hotel- what an amazing experience!  I am so grateful and relieved for the lockdown release, hopefully we are slowly adjusting back to 'normal life' even if it is with face masks!! I hope we can remain cautious and safe."
Keflyn Sachar from Greenford  , Rysa Saujani from Newbury ,  Constance Iloghue from Lewisham & Natasha Chittoo from North London are also amongst those who qualified for the next Miss England national Final by taking part in the Virtual  qualifying  Contests held during lockdown.
Organisers will be announcing the new Miss England Final date during the first week of September after the original final was postponed due the pandemic. The 70th Miss World final has also been moved to 2021.
Credits Miss Miss England